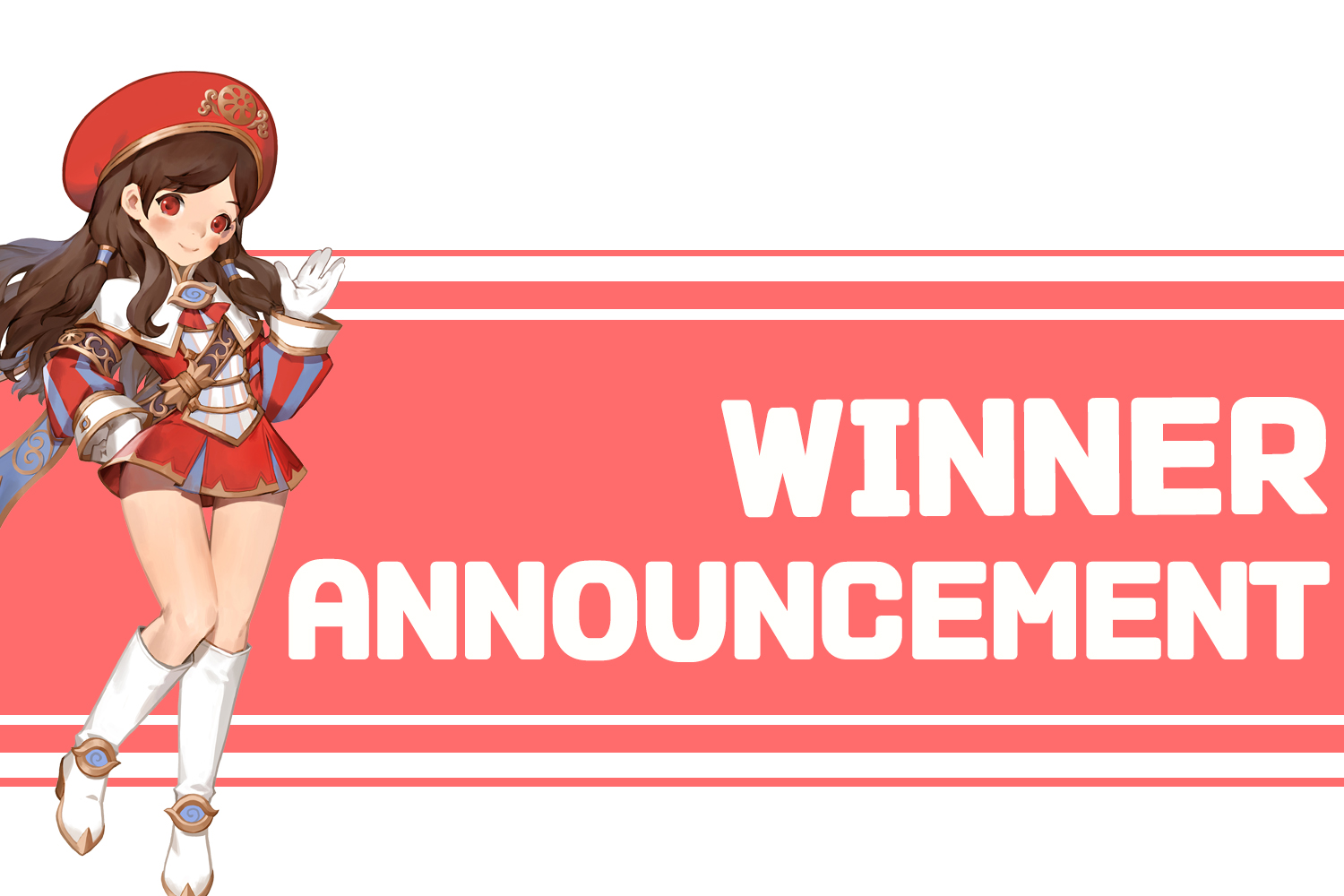 Good day, everyone! This is [GM]Loren.
It was truly an honor to see so many Heroes participating in the Santa Loren event held in 2021 as well.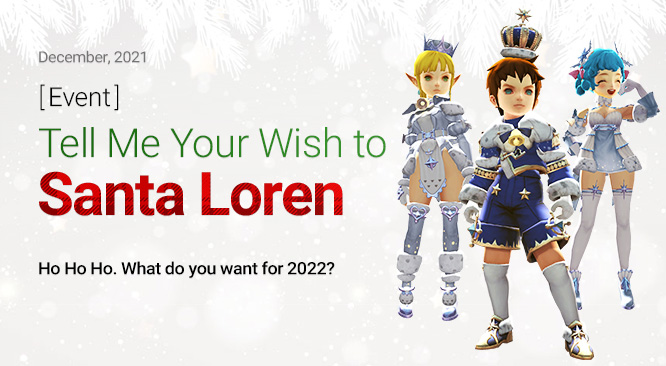 └Event Link: https://us.dragonnest.com/news/notice/event/872#event5
Indeed, me and all possible personnel, including the Service team and the Development team, carefully reviewed every voice you sent.
As we informed in advance through Twitter, we selected the ideas that are most likely to be realized in 2022, and the review opinions of those who were not selected are briefly attached as follows.
Thank you again for participating, and congratulations to all 12 heroes who were selected!
---
[Winner List]
Ref.

IGN

Submitted Wish

Feedback

1

YuriLowell

In 2022, I would like more "Playing With GMs" Events such as that Raid Mission event that was held in October. Playing and hanging out with the GMs is something I would personally enjoy because it shows how much you guys care for us. ♥

GM play events are held regularly.
However, in 2022, we will hold it more often.

2

Wahi

An event where each person receives a giftWrapped presentto be given to another person. (Cannot open by self). That gift is to be opened on special occasions such as Christmas/New Year or such (1 gift per occasion?). Reason promotes sense of community/CelebrationRaising hands

The gift-giving promotion is already running in December 2021, right?
We will try our best to continue next year.
We also will do our best to select a pretty and cute reward.

3

Ageratos

The second is to have a way to get the old special weapons. For example the light or gold weapons... Dark or purple weapons...
Something like a untradeable coupon obtainable throught crystal points or gold, much like the crystal point seasonal costumes from cherry's shop.


We were discussing how to re-release previously released effect weapons.
There is no confirmed direction so far, but our service team is also positively reviewing it.

4

LunarBak

@[SantaGMLoren] We talked about this in game briefly to but I would love if you bring back the "More Suspicious Wings Box" where you can obtain any 1 of any set of wings released up until this point like the dazzling space constellation wings. Merry Christmas!


We cannot confirm the date of sale, but we hope to make it available for sale in 2022.

5

Cupid

Would really love to have an event that would increase spawn rate for invaders! For dungeons and or nests! So players could have more chances of getting skill jades or materials to enhance their jades, it would really help new comers!

We cannot confirm the date of the opening, but we hope to make it available for opening in 2022.

6

Mozarc

Dear Santa Loren,
I have many wishes for some events and it's hard to narrow down to one. (´-﹏-`;)
If I had to pick.... I wish to have more art events with rewards that are cosmetics sets, DNP or even physical items.

Sincerely,
Mozarc

It would be nice if we could hold an art party in the server, one we could draw each other's characters. Or have prints of the artworks done for the events. Besides doing art for the event banners and so on. (。•̀ᴗ-)✧

We will continue to hold art events in 2022.
We, the Service team, and the Development team are all happy and glad to see the work all of you draw.

7

Androimeda

A major factor halting gear progression for less hardcore players is that they don't know the mechs for the big nests. There could be an event where ppl are rewarded material for answering a quiz about different dragon mechs.

We hope to hold more quiz-type community events during 2022.

8

Sliveria

Dear Santa Loren,

For this Christmas, I wish for the wings box to return. We need more wings in our fashion lives. Also, maybe weapon box for old weapon costumes in Pania's shop? It will be nice to have old costumes back.

With love,
Sliveria


We cannot confirm the date of sale, but we hope to make it available for sale in 2022.

9

JinMerlin

Hi Loren :) IGN:JinMerlin
I wish to have a months with new attendance instead of goddess coins :) for about a month people who login will get each day a reward and at the end of the month there's a big reward that respond to the needs of players .You need to login everyday to get


We have a predetermined plan to proceed with another type of attendance event instead of the goddess coin reward in 2022.

10

Suhmi

Running after Goblin for coins is satisfying and rewarding.Glowing starI wish there was a special Goblin running in Nests dropping coupons that you can collect to give him back in Saint Heaven in exchange for limited cosmetic items!Wrapped presentMore surprises in NestsFireAY

We cannot confirm the date of the opening, but we hope to make it available for opening in 2022.

11

Arcadia

Dear Santa Loren,
I hope for an event to design an outfit or item in game. This was an event from long ago that I would like to bring back! I like to see everyone's creativity ♥ Maybe even bring back the Official Dragon Nest Art Book too.

Unfortunately, there are no plans for the contest during 2022.
(This decision was made considering all factors such as the development plan and environment.)

It's really unfortunate, but holding an event where you can acquire other merch such as art books will be.
The service team is also positively considering it, so we promise to reward you for the event in 2022.

12

Aldina

Dear Santa Loren Two hearts. Happy hoilday Loren! I'm wishing to have more old costume be in crystal shop or cash shop and I hope soon or later they will be more epic costume for eveyone


We have a steady sales plan for them. Fashionistas, don't miss the opportunity in 2022!
>Rewards will be sent to the above winners during Scheduled Maintenance on the 29th December 2021 (PST).
>DNP is credited directly to your account and must be received by midnight on the 7th day from the date of delivery.
[Dev's Feedback to Your Voice]
#1. Making mission boxes using mercenaries or holding relevant events
→ On the current system, it is difficult to create a mission box that uses and utilizes mercenaries considering the abusing factor.

#2. Costume preference survey open
→ Since the update of the Vandar Class, we have been continuously developing additional costumes from the old costume line-up. We plan to present the returns one by one as we do now, so please look forward to them first.


#3. Design Contest
→ We ask for your understanding that it is difficult to proceed in the near future according to the currently scheduled development milestone. We are very sorry, but we are always trying to catch your brilliant ideas.


#4. Trinket Development

→ It is difficult to proceed with new development in the near future according to the currently scheduled milestone.
→ However, the event will be planned for the first half of 2022 so that other types of Trinkets let players additionally acquire.
FYI: Every February, the GM event, [Who wants to give your chocolate on Valentine's Day?] is being provided to give you an opportunity to acquire the [Captivated Rose Trinket], which will be held in February 2022 as well.


#5. Old Nest Open
→ In order to re-open these old nests, rebalancing and other corrections are required with the meta appropriate for the current Dragon Nest. Compared to that, it is similar to the scale of opening a new nest.
We are very sorry, but we decided that it would be difficult to proceed in 2022.


#6. Expand the secure channel of the item, Guide Star
→ There are no plans to separately expand supply and demand channels in the near future. (There may be changes depending on the meta.)


#7. Expand the secure channel of Skill Rune
→ We are developing to increase additional secure channels that can be acquired in the remote future. In the near future, we will provide an opportunity to acquire up to 2 additional maze tickets through [GM] events, etc.