This event reward has distributed to qualified winners during the August update patch.
Please make sure to claim the reward before 13th August 23:59 (PDT).
If you have inquiries about this event, please submit your ticket until 12th August (PDT).
It may be difficult to receive help or answer if the above period is over.
Thank you.
■Link: https://us.dragonnest.com/support/request
---
[SPECIAL EVENT]
Photo by [GM]Loren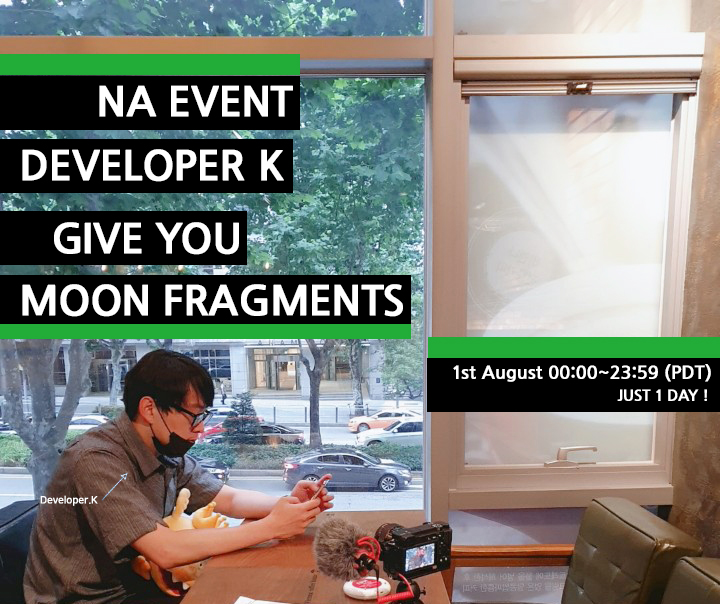 August 1st, Just one day!
For every hero facing a special invader who gives Moon Fragments
while doing a mission board clear play,
Developer K will give you additional pieces of Moon Fragments!
If you get 50 more from a special invader, he'll give you 50 more!
[EVENT DETAILS]
①This event is held for players who have acquired Moon Fragments by meeting a special invader while playing with Mission Board Mission.
②On August 1st, even if you meet the special invader several times
and get 100 or 200 fragments, you will receive only a 1-time event reward of 50 pieces.
③For inquiries related to this event, please contact to our 1:1 ticket page.
Link: https://us.dragonnest.com/support/request
■Period: August 1st, 2020 00:00 ~ 23:59 PM (PDT), 1 day
■All the above 95 level characters can participate in this event.
■This event is based on an account basis.
■Event reward will be distributed
during the 5th August Update patch via Special Storage.
[NOTE]
■Unclaimed/Expired/Deleted items won't be reimbursed for any reason.
■GM's and Developer K's decisions are final.